Coffee lovers rejoice. Whether you're stopping off for a quick espresso, a place to enjoy free wifi and a flat white or somewhere to watch your barista slowly and masterfully preparing a drip coffee, this guide to Barcelona's best coffee shops has all of your needs covered. You may pay a little more here than in your standard bars however aficionados will delight in the strength, flavour and finesse that these coffees – alongside that all important caffeine kick – will provide.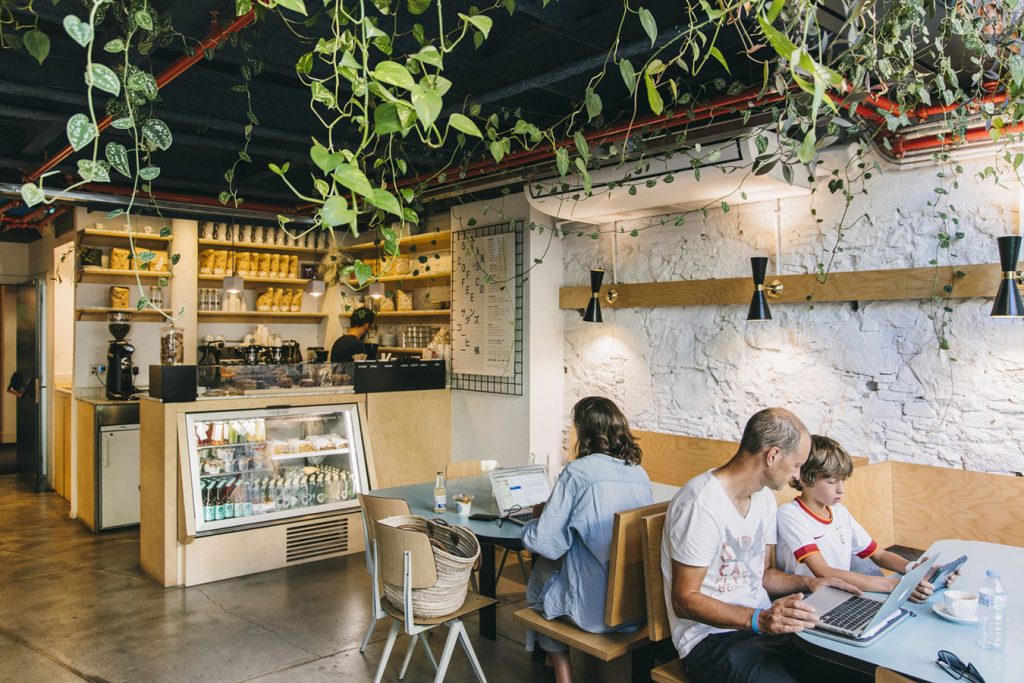 Satan's Coffee Corner
Barcelona's original third wave coffee shop, Satan's Coffee Corner has been serving quality beans to the city's cool kids and creatives since the opening of their shared storefront in Raval back in 2012. Now situated on a narrow street in the Gotico neighbourhood – as well as the more upmarket Eixample district where they can be found dishing out devilishly delightful treats on the ground floor of hip hotel Casa Bonay – coffee purveyors can revel in hellishly good coffee, breakfasts, snacks, drinks and a curated selection of merch to boot.
Onna Coffee
A petite spot in the Gracia neighbourhood surrounded by independent fashion shops, Catalan bistros, bars and close to many a relaxed square, Onna Coffee Roasters make 'Good Coffee with Craft Care'. With a Costa Rican owner and baristas who know there way around a brew – and the machines needed to make one – this tiny cafe serve potent coffee, a selection of teas, sandwiches and desserts. From flat whites to cold brews and an AeroPress, this is a fabulous spot to sip on something strong and watch the world go by.
NOMAD
With three outposts dotted around the city including our favourite coffee bar on the pretty Passatge Sert, NOMAD coffee is a bit of an institute in Barcelona. Roasting, serving, experimenting and advising, these guys host barista training courses, sell there own products online and to a host of other coffee shops throughout the city. Friendly and found in some of our favourite hoods – as well as any event or pop-up with credibility – at NOMAD, you can refuel with delicious brews in stylish surroundings.
Espai Joliu
Serving the aforementioned NOMAD coffee, Espai Joliu is a place where plants meet coffee. A concept store and cafe, the industrial interiors – think exposed beams, distressed walls and hanging lights – are softened by the lush greenery filling the space and the selection of curated indie magazines stacked up on wooden shelving. A hip place to hang out in the Poblenou area with a mix of locals, travellers and workers, if you're unable to grab a seat here, their recently opened sister property Orval, a 15 minute walk towards the city centre, is a lighter and slightly larger venue, equally as beautiful and a great place to sip that NOMAD coffee amongst greenery, neon lighting and plants.
Three Marks Coffee
Three Marks Coffee may be relative newcomers to the Barcelona speciality scene but that doesn't make them any less special. Roasting and brewing their own goods – as well as supplying them to more of the city's cool outposts – the guys here are friendly, helpful and ready to educate patrons on all things coffee related. Also serving breakfasts, sandwiches and pastries from their large glass fronted store on Carrer d'Ausiàs Marc – alongside Nitro Cold Brew, Kombucha and Chai Latte, this is fast becoming on our favourite haunts on the coffee trail.